Social History Collection (ZHS) Division
The ZHS collection is based on the library holdings of the former Central Archives of the Central Committee of the Polish United Workers' Party (PZPR), taken over by the Sejm Library in 1991. New acquisitions are focused on the socio-political life, in particularly on the activities of the PZPR and also on the history (from mid-19th century) of Polish peasant, worker, trade union and youth movements developed mainly under the influence of leftist ideologies.
It contains, among others, unique Polish and foreign, 19th century socialist prints, other publications such as diaries, correspondence, programs, reports, and propaganda publications from the period of the Polish People's Republic (PRL), issued mainly under the auspices of the PZPR.
The collection of periodicals includes the first Polish socialist journals, ephemeral press organs of political parties,emigration newspapers, Polish newspapers until 1939 (including titles such as Tygodnik Ilustrowany, Kurier Warszawski, etc.) and also the collection of underground press from the Second World War period, including the Warsaw Uprising.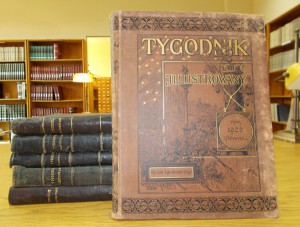 Next to the literature on socio-political history of Poland and other post-war communist bloc countries, there are also publications of classics of leftist ideas as well as studies on the philosophy and the history of ideas.
A separate sub-collection consists of set of records illustrating the political life in Poland after 1989, which particularly focuses on the activity of political parties.
In December 2022 the size of the ZHS collection was ca. 157 320  units in total, including:
books – ca. 113 970 vol.,
serials – ca. 39 280 vol.,
political life documents – ca. 20 790 documents.